Enjoy an all-outdoor visit to the Bronx Zoo
Make your next Bronx Zoo visit an all-outdoors experience! This guide will help you make the most of your day as you wander down tree-lined paths and visit amazing animals in world-class outdoor exhibits.
If you've ever visited the Bronx Zoo before, you know that it's a big place! The zoo encompasses 265 acres of hardwood forest, to be exact, and an outdoors-only experience can easily comprise your entire visit.
Insider tip: Be sure to use the Interactive Map on your smartphone to view real-time info and GPS point-to-point directions: bronxzoo.com/today.
Cold Weather? No Problem!
Outdoor exhibits including Tiger Mountain, the Himalayan Highlands, Big Bears, the Sea Lion Pool, and the Sea Bird Aviary are open year round. Tigers, snow leopards, grizzly bears, sea lions, penguins, and other species at the zoo are at their most active in colder weather, and the cooler months are a great time to visit them.
Insider tip: Sea lion feeding and training sessions are held daily at 3pm. If your group is interested in more animal feeding and training, you might also want to watch a penguin feeding (3:30pm daily in the Sea Bird Aviary).
Tiger Mountain
Tiger Mountain is full of things for our big cats—and visitors—to explore. Get nose-to-nose with our stars in stripes and discover how we protect tigers through our work here at the zoo and in the wild.
Insider tip: Our tigers use different ways to communicate. They can rub cheeks and make noises called "chuffles." They can growl. If the moment calls for it, they can wow us with a roar.
Delicious Dining
Our newly-renovated main restaurant, the Dancing Crane Cafe, is open year-round, serving hot and cold dishes as well as snacks and beverages. You'll find expanded menu choices that benefit our local community, reduce plastic, and support our mission to save wildlife and wild places. Seasonally, the outdoor dining area at Somba Village on the African Plains offers kids a chance to watch geladas, ibexes, and hyraxes while they eat.
Insider tip: Need a look at the menu in advance? You can review the menu for the Dancing Crane Cafe here.
Playtime! Bug Carousel and Nature Trek
On the Bug Carousel*, you can climb aboard a long-legged praying mantis, a bright green grasshopper, or your favorite insect of choice for a very unique carousel ride. At Nature Trek*, adults and kids ages 3 and up can navigate across bridges and balance beams, and weave between obstacles for a safe and challenging adventure.
Insider Tip: The Bug Carousel is the first and ONLY carousel featuring an all-insect lineup. Choose from 64 different types of insects that you can mount — including fireflies, beetles, grasshoppers, and ladybugs. There are also two stationary chariots: a monarch butterfly and a dung beetle.
Himalayan Highlands
Where else but the Bronx Zoo can you cross the globe in just a few steps? The Himalayan Highlands showcases wildlife native to the mountains and grasslands of Central Asia, including the iconic red panda and graceful white-naped cranes. But the stars of the exhibit are the beautiful, mysterious snow leopards.
Insider Tip: As a leader in snow leopard conservation, we're proud of our long history of breeding success with this species -- more than 70 cubs have been born at the Bronx Zoo as part of the Association of Zoos and Aquariums' Species Survival Plan.
Looking for More Outdoor Exhibits?
The highlights above should help you have a great two-to-three hour outdoors experience, but if you have more time there's always an amazing animal around the next corner. Be sure to check out the American bison to learn about the role WCS played in saving them from extinction, Birds of Prey, and more.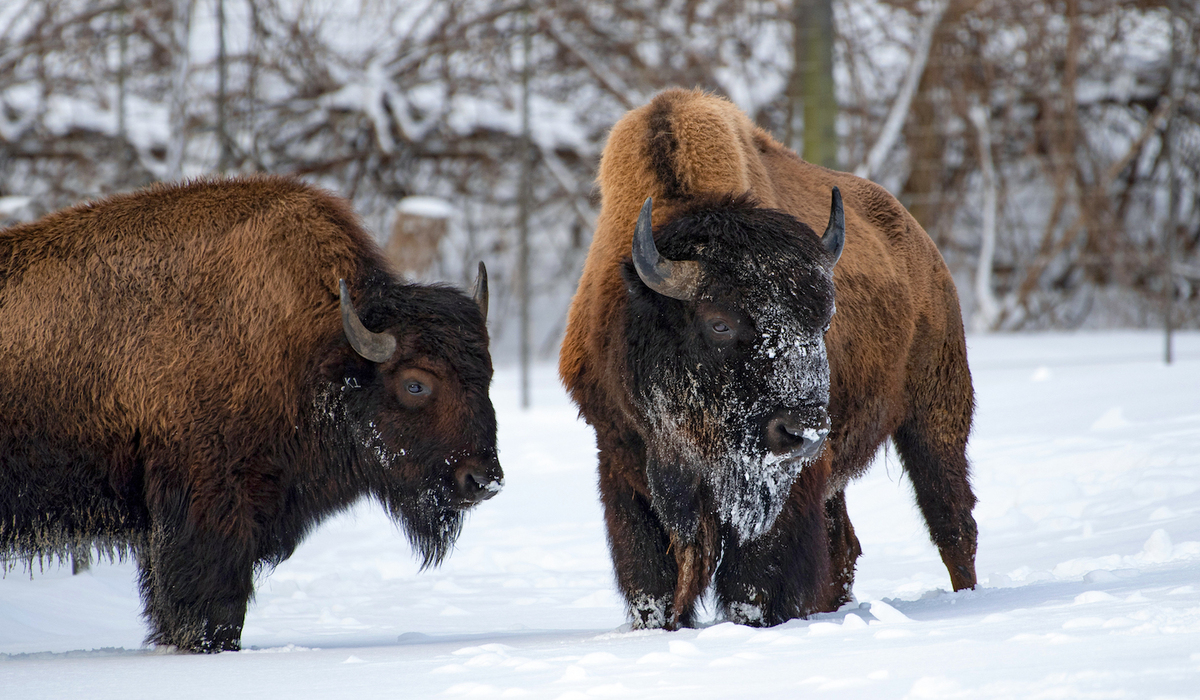 Be sure to use the Interactive Map on your smartphone to view real-time info and GPS point-to-point directions: bronxzoo.com/today

Policies are subject to change, and all guests must abide by the park rules in effect on the date of visit. When changes happen, we make every effort to align our website and park signage with updates. Always check before you arrive for the most up-to-date information at bronxzoo.com/planahead

*Included within Bronx Zoo Admission, which includes park entry and unlimited Star Attractions. Limited Admission tickets are for park entry only. Some exhibits and attractions are seasonal. Availability is also subject to unforeseen conditions including weather, mechanical, safety, capacity, crowding and/or animal-related considerations.

What STAR Attractions are available in the Winter? From November through March, enjoy JungleWorld, Bug Carousel and Nature Trek. Please note, Congo Gorilla Forest is closed Jan – March 3, 2023.