WCS Education
Inspiring a diverse, inclusive movement of conservation advocates.
The goal of WCS Education is to inspire a diverse, inclusive movement of conservation advocates. We do this by sparking connection with animals and nature; enhancing scientific literacy through hands-on investigation; and engaging constituents in stewardship and action to conserve wildlife and wildplaces.
---
Our Commitment

Representation in science matters, and we are committed to disrupting notions of who scientists are, what they do, and who can be one. As one of the largest conservation organizations in the world, WCS employs thousands of scientists whose backgrounds and experiences are as diverse as the biodiversity they protect. By centering these stories in our programs, we inspire all New Yorkers to see themselves in science.

---
Our Approach

We provide deep, lasting interactions with wildlife in our parks and beyond, inspiring connection and wonder for animals and nature.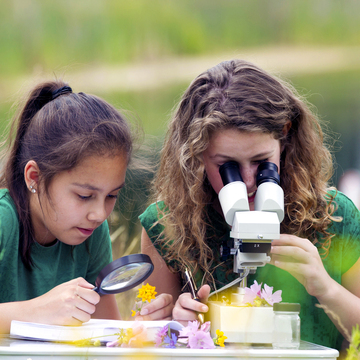 We challenge learners to observe, question, predict, and test to make sense of the natural world, enhancing scientific literacy through inquiry-based learning.
We champion real-life conservation challenges, solutions and changemakers, motivating our audiences to take action to protect wildlife and the environment.
---
Our Audiences

We bring conservation action to life through our programs. Every year, we reach close to one million students, educators, families, youth, adults and zoo and aquarium visitors through education activities at our five New York City parks.
WCS is dedicated to serving a broad constituency that mirrors the diversity of our surrounding neighborhoods and our city. As such, we have launched key initiatives to engage all New Yorkers in science and conservation:
Research & Evaluation

WCS is committed to advancing the fields of informal and formal science learning through rigorous program evaluation and educational research. Read more about our current research efforts here.
---